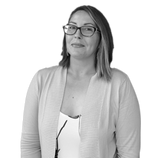 Phone: 619.442.9200 X 301
Email:
alexandra.stacier@svn.com
Alexandra "Alex" Stacier
Staff Accountant
Alexandra (aka Alex) is a US Navy Disabled Veteran who is attending school to obtain her second degree for accounting. She received her Bachelor of Arts degree in Business Administration in 2019.   Her long-term goal is to become an Investigative CPA.  She will be doing Accounts Payables/Receivables for SVN Vanguard.
Alex was born in Texas and has traveled the world while serving the country.   She has fortunately enjoyed 15 different countries along with each of their unique cultures.  Aside from experiencing many international beauties, a few other amazing US states that she's lived in are Hawaii, New Mexico, Virginia, and Florida.
Alex loves to spend quality time with family, friends, and her two dogs – Groot and Jelly. Some of her favorite hobbies are hiking, going to the shooting range, and baking.   Fun facts – she was the first and only female on the first Non-Compliant Boarding Team (SITT – Ships Integrated Tactical Team) in Naval history and she used to do MMA.