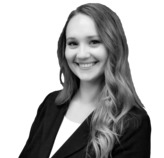 Phone: 619.442.9200
Cell: 858.335.2998
Email:
brooke.hitz@svn.com
Brooke Hitz
Director of Accounting
Brooke currently serves as Director of Accounting for SVN Vanguard. Her roles include oversight and active participation in all areas of the day-to-day accounting and financial functions of the company, corporate accounting and planning, general oversight of all property accounting, and periodic reporting to the company owners.
Brooke brings with her over 6 years of demonstrated success in preparing financial statements, account reconciliations, month and year end closing, and audit preparation with expertise in various accounting software packages. Previously a Staff Accountant for Welk Resorts, Brooke has been noted for her ability to assist and manage multiple projects and tasks under pressure, organize, problem solve, and find profitable solutions.
A San Diego native, Brooke graduated from Saint Michael's School and Cathedral Catholic High School. She then went on to attend and graduate from the University of Arizona where she earned her Bachelor's degree in Accounting from the Eller College of Management. Off the clock, she enjoys spending time with my family and friends, cooking, and learning anything related to true crime.