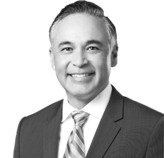 CalDRE #01413353
Phone: 619.442.9200
Cell: 619.742.9269
Email:
jjimenez@svn.com
Senior Vice President – Director
Jorge is a Principal of SVN | Vanguard, based out of San Diego, CA. He was raised in San Diego's South Bay Area and is a proud alumnus of St. Augustine High School and San Diego State University. After college he was hired as a Senior Research Analyst for the nation's foremost commercial real estate research firm, where he soon gained interest in the field of Investments. Jorge made the decision to move forward and used his enthusiasm to begin employment with one of the top commercial real estate firm's in the nation (#1 Commercial Real Estate Investment firm then). He was able to expand his profession over thirteen years and held the title of First Vice President Investments (it's highest title). He used his knowledge and expertise of the San Diego market and strong client relationships to create the Jiménez Group at the first SVN|Vanguard office in San Diego. Today, he uses his expertise to advise his clients in an ever changing investment environment. With over $1Billion in commercial real estate advisory; Jorge has earned the respect of peers and clients alike.
Jorge has a family of three sons and has been married for 25 years. Raising three young men has taught him that above all integrity, honesty, and charity are values necessary to achieve success. Jorge holds family above all else and the fortunate clients that he can call family will attest to the same; just ask for their reference, he'll gladly introduce you.