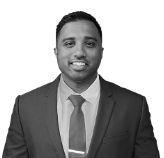 CalDRE #02127548
Phone: 619.762.5490
Cell: 760.687.3254
Email:
ryan

.chandrapaul@svn.com
Advisor
Ryan Chandrapaul started his real estate career working for a private commercial investment firm in 2008 purchasing storage facilities, single family vacation rentals, and NNN retail locations in Orlando, FL.  Since then, Ryan has continued to further expand his commercial expertise and within this past year has listed $11M worth of real estate for several valued clients.
Ryan was born in Queens, NY and is a first generation American. After September 11, 2001, his family moved to Central Florida where Ryan completed high school and enlisted in the Marine Corps. Ryan had the opportunity to travel the world in the Military going to countries like Afghanistan, Kyrgyzstan & Germany.
Ryan spends his free time working on classic cars, lifting weights and training in martial arts, he spends his winter months snowboarding at ski resorts throughout the United States and is involved with the San Diego Chapter of the Wounded Warrior Project.
Ryan is excited to join the team at SVN, with many goals in mind. His main priority will be to help clients build and preserve generational wealth through commercial real estate investing.